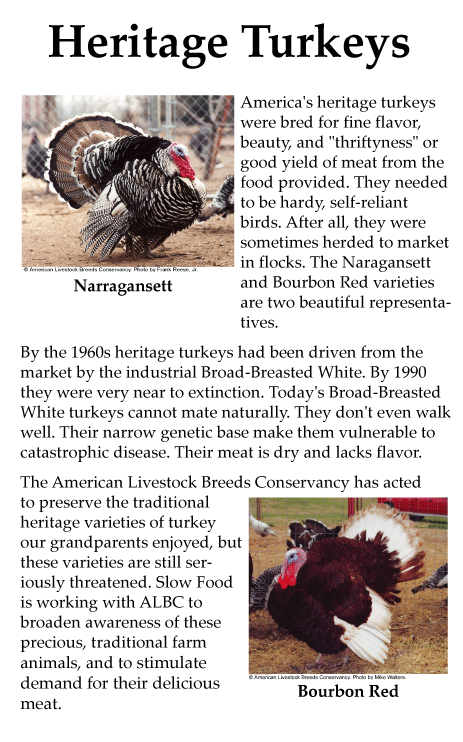 This summer Gary and I had the opportunity to learn about TURKEYS!!! We had 2 guys in 4-H that wanted to raise turkeys. So they probably taught us more than we ever thought we would know about turkeys. One thing that I learned was that there are many different breeds of turkeys. Heritage turkeys are the ones that we see in picture books and think of when it comes to the Pilgrims, but they are most likely not what you will set on your table for Thanksgiving. Most commerical turkeys are white tom turkeys. While these provide lots of meat, as a bird they are not nearly as pretty as the Heritage birds. The inset shows 2 different types of Heritage Birds.
This Thanksgiving challenge your thinking and really think about what type of foods were served for that first Thanksgiving. Due to their location there was probably some type of seafood - most likely fish. There was probably wild game of some type maybe venison, turkey maybe pheasant. And the things that they had grown over the last year. So what have you grown or made from scratch that you could set on your table? At our house, we usually have corn, potatoes (sometimes home grown if not locally grown) apple something (dumplings, sauce, or rings that were grown on our trees), we usually have pumpkin something (pie, roll, or just pumpkin with marshmellows on top, that the pumpkins might have been grown here in the garden.) We could do green bean casserole, but usually don't. We have made butter and whipped cream from scratch for the holidays in my butter churn, too. We try to remember where the things come from and are thankful for a good growing season and that ability to store the harvest.
So for turkey fun - have 2 people break the wish bone.
Let the kids make shirts with the hands as the turkeys. The thumb becomes the head and the fingers are the feathers. You can paint the hand brown and then the fingers different colors. Place the hand on a shirt and add an eye and you have a Thanksgiving Shirt.
Take a paper plate and make it into a turkey with feathers coming out one side and draw a head and a snood(the red thing that hangs over the beak) on the center of the plate.
Since the Pilgrims came to Plymouth Rock - find some smooth rocks and use a marker to write names for name cards.
Have a Happy Thanksgiving!